We all fear change. We fear changing jobs, changing schools, changing ages, and changing financial situations. The fear of failure is usually a fear that our actions will change our status in some way. We might fear change when we worry about whether or not we're ready to be new parents, start going to church, or just start a positive habit. The fear of change can actually be what keeps us in hurting marriages, painful addictions, and tired old perspectives that wear us out.
So how do we change fear into fuel? Indiana Jones, the lead character of the movies named after him, can help us here. Maybe you remember this scene from Indiana Jones and the Last Crusade. As usual, and maybe not too far from what your average week feels like, Indy was on the run from the bad guys, trying to save someone's life, and headed to find some great discovery when fear brought him to a total stop. He walked up to a ledge of a chasm situated in between where he was and where he knew he needed to be. The chasm is what it looks like to fear change. It's the seemingly huge gap between where you are and where you know deep down you need to be.
Do you know what Indiana Jones did next? He looked down at his guide book, and it revealed some kind of bridge was supposedly right in front of him. The trouble was, just like whatever is on the other side of your next step, he couldn't really see it. Your guidebook may be your faith, wise people around you, or Scripture showing you a way when there is no other way. Then, his faith toppled his fear when he stepped off the cliff into nothingness as his newfound footing confirmed that a bridge had actually been there all along.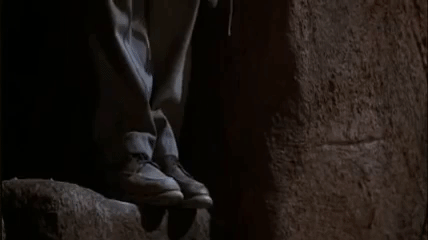 Guess what? Indiana Jones couldn't see the rocky bridge because it was blending in with the rocky sides of the chasm in front of him. Like Indy, the exact thing you fear can become the very thing you stand on when you decide step out in faith. In other words, a step of faith turns fear into fuel.
Dr. Martin Luther King, Jr. lived this out and talked about it too. He said, "Faith is taking the first step even when you don't see the whole staircase." This stuff is in movies and famous speeches because it's true.

Thousands of years before Indy and Dr. King, there lived a teenage shepherd named David. He showed uncommon bravery in 1 Samuel 17:46 NIV when he told the nearly 10-foot Goliath, "This day the Lᴏʀᴅ will deliver you into my hands, and I'll strike you down and cut off your head. …" Did David fear change? Yes. David was human. He feared change, but he had faith in something bigger than change, someone bigger than his giants, and his faith changed fear into fuel.
A few verses later, David did something that makes you want to just stand up and cheer. He—a teenager too wiry to hold up battle armor—ran out to fight the giant with nothing more than a slingshot and five smooth stones. You may know the rest of the story. David toppled Goliath with one smooth stone and won the battle for his entire country.   
David completely leveled the threat that was Goliath. This battle actually became a bridge into David's future as the next king of his nation. What does your next step of faith look like? It might look a lot like something you fear. It probably looks like change. You might not be able to see it. Actually, faith is often taking a step just to find your next step. What is your next small step?
There's another word for people who face the fear of change and let faith change their fear into fuel: leaders. Leaders may fear failure, but not as much as they trust God. They run toward the battle line, across the invisible bridge, and up the staircase to flatten the tallest of giants. But before they run, they take one small step of faith. If you're having a hard time taking the next step, try these three proven ideas for toppling giants.
1. Go pick up some stones. David went looking for the tools God had given him: five smooth stones. God's given you something. It may look small, but go pick it up and try it out (1 Samuel 17:40). Here are some tools for growth.
2. Serve others. When David found out about Goliath, the giant threatening his nation, he was only there because he was bringing his brothers lunch. It's amazing how often God uses us to do big things when we are doing small things to serve others. Here are some ways you can serve.
3. Put a foot forward. The degree to which your eyes cannot see what will happen when you put one foot in front of the other is the degree to which you will need faith. And faith in God is the ingredient that turns fear into fuel. That's because faith is what God wants from you. David messed up a lot—like really a lot—but he so often took steps of faith that God Himself called David a man after His own heart. What is your next step of faith? Getting baptized? Giving generously? Getting involved in your community?
---